October is National Women's Small Business Month. We are proud to recognize the accomplishments and dedication of our woman-owned business members. Scroll down to read more about these women and their businesses.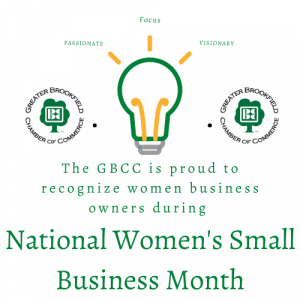 Angila Allen - Minuteman Press
"Every day I wake up knowing how blessed I am and what a wonderful country I live in. With my parents as my examples, entrepreneurship is in my blood. They taught me to be self-motivated, determined and giving. I am the owner of Minuteman Press in Brookfield. We design, print and promote you. We help other businesses and non-profits succeed and we love that! We help ensure logos and designs are high quality. We print everything that is needed to run a business from business cards to product manuals. We help you stay on top of your customers minds, by providing all things you need at trade fairs, conferences, and fundraisers including promotional products. We also help with marketing solutions from direct mail to digital advertising. God Bless!"
Jennifer Buchholz - Excel & Flourish
"After doing time in corporate, for over 20 years, I knew I could help people in a better way if I was in charge of things. With no intention to be a business owner, responsible for all the business operations - I just wanted to DO the work my way for great results. Having owned Excel & Flourish for 8 years, I realized that I LOVE being a business owner and being responsible for my own, and my business's success. I love the freedom, flexibility and variety that being a business owner provides. Being accountable for my own success and creating my path has been great. Now, I'm on the brink of going bigger - more clients means adding team members and requires I be more strategic and forward thinking about how to scale. Part of my success in business includes being a part of organizations like the Brookfield Chamber."
Rhonda Deaver - Snapdragon Flowers of Elm Grove
"Snapdragon Flowers of Elm Grove was created 10 years ago to full fill a life long dream of owning & running a business that creates a community of support for everyone that touches it and it sends out to the world love and care to people.  We tell your story through uniquely designed floral arrangements that can include plants and anything else we can think of.  You want to talk with me email me at rhonda@snapdragoneg.com, check out our website www.snapdragoneg.com or like us on Facebook."
Robin Elario - Assisting Hands Home Care
"I have a passion for helping people which guided me in making my decision to purchase Assisting Hands Home Care 3 ½ years ago. I wanted to make a difference in people's lives, and my commitment to the well-being of my clients is what drives me every day to provide the best care possible. At the time, I was working as a business broker helping people buy and sell businesses, and this opportunity came through my firm. It did not take me long to make the leap, plow ahead at full speed and purchase Assisting Hands. I have always wanted to own my own business and my desire to help others made this a perfect fit. As a woman, the privilege of being a business owner provides a great sense of pride and empowerment. Every day it challenges me and helps me grow in all aspects."
Erica Flores - Healing Harmonies, LLC.
"I have been a board certified music therapist since 2006 and owner of Healing Harmonies, LLC since 2011.  I manage a team of 4 board certified Music Therapists and 2 licensed Art Therapists.  We provide services at our clinic location in Wauwatosa as well as throughout Milwaukee, Waukesha and surrounding counties.. We are passionate about using the power of music and the arts to help individuals with cognitive, emotional,physical, spiritual and/or physiological needs reach a more desirable state of being. I became a business owner because I developed a deep desire to advocate and educate the community about what music therapy is and how it can be used to help those with various needs. Nothing gives me more pleasure than seeing the amazing effect music has on our clients and the joy it brings to the caregivers when they see a loved one genuinely experiencing transformation from their musical experiences."
Beth Graf - My Family Roots Catering and Event Planning
"Hello 💚My name is Beth E Graf and My Family Roots Catering & Event Planning began 2 years ago to share my family's style of noshing, and to fill a void in the catering choices available. I enjoy encouraging others to step outside of their safety zones with bold flavors and new tastes, and this blossomed into a passion to serve others all the time. My favorite clients ask me to bring my own flair to their tables, allowing me to make their parties stress free and elegant, yet affordable. MFRC also allows me the freedom to use my artistic background to create edible works of art, pairing colors and textures with flavor infusions. I love to elevate any event or occasion."
Sue Gresham - Innovative Client Solutions
"Hi, I'm Sue Gresham, the "LinkedIn Lady". I started my business (Innovative Client Solutions) in late 2009 as a Social Media Strategist, teaching people how to use social media platforms to develop online relationships, to grow a business or find a job. LinkedIn has always been my favorite platform and about 6 years ago, I niched my business to focus solely on offering LinkedIn training and consulting. I truly believe that developing, nurturing, and maintaining professional relationships is the key to business and personal success. In fact, after years of networking and relationship-building, the title "LinkedIn Lady" came from my colleagues at the Chamber. The best part of my job is helping people discover how unique and talented they are as we build their profiles together and watching them become increasingly confident as they grow their networks and live an engaged "LinkedIn Lifestyle". I am a teacher, a trainer, a consultant and cheerleader. I'm also a speaker, teach college courses, host virtual workshops, and offer online classes for those who want to amp up their LinkedIn game quickly."
Lori Hass - From Olives to Oli
"When you walk into From Olives to Oil®, an Olive Oil Tasting store you will discover our collection of extra virgin olive oils, aged balsamic vinegars and nut oils displayed in gleaming Italian stainless steel containers called fusti's. Our collection is unique in that I personally meet with our producer, literally hand selecting the oils and vinegars that we sell in our store. With this special arrangement we control the quality and more importantly the freshness of our products."
"I am an Independent Sales Director and I started my Mary Kay business 22 years ago this month. I was working full time and going to class in the evening to get my Masters degree at UWM. I also had a newborn son who was 7 months old. I was feeling overworked and overcommitted and knew I wanted to be home to raise my son.  I heard about Mary Kay's philosophy of God 1st, Family 2nd, and Career 3rd and thought "This is exactly what I am looking for."  I started my Mary Kay business working it one night a week and after one year I was able to quit my full-time job. Starting this business was one of the best decisions I have ever made. I was able to be home to raise both of my sons while building a successful business on the side. My favorite part of my business is the people I get to meet and I love that I get to help them look, feel, and live their best lives now!"
Krista Hull - Redeem and Restore
"I am the founder and executive director for Redeem and Restore Center. RRC's mission is coming alongside women recovering after sex trafficking and exploitation to help them build a foundation of healing- ultimately through a restorative care home. I am inspired by the courage and resiliency of women survivors, and believes that together with God's help, we can restore women to a life of freedom! I am continually energized by others 'comeback stories' of growth and wants to empower others to create their own beautiful stories. Fueled with compassion, it is my desire to help hurting women stems from being a survivor of child sexual abuse and abandonment. I know God's great love, power and justice in my own life. With that, I persevere in honesty, vulnerability, integrity and strength as a passionate speaker and chaplain. I am also a Crisis Intervention Specialist, and an alumna of the FBI Citizens Academy and Waukesha County Sheriffs Citizens Academy, and host of Life Empowered Podcast."
Kristina Koslosky - Kreative Solutions
"As a Business Development Coordinator for a software company launching a new venture, I was the liaison between our partners and developers, translated the needs to technical specifications, designed the interface, and ultimately trained the support staff. I quickly realized my love for projects and building websites! After recognizing my passion, I returned for my Master of Business Administration and founded Kreative Solutions January 2017. Early digital marketing experiences throughout my first year lead me to believe that starting with a website design and ensuring a solid foundation is the key to success! From that point on, my business model revolved around a website design or redesign. Even though Kreative Solutions can be an all-in-one branding and marketing solution, website design with search engine optimization is my specialty! I love helping entrepreneurs, startups seeking funding, and small businesses take their website to the next level."
Maria Manby - Clear Speech Coaching
"Clear Speech Coaching provides children and adults speech & language coaching to meet their individualized needs. I started this business 2 years ago so that I could provide clients with speech & language coaching in their homes or offices, while offering flexible hours. I meet with clients in person or via video conference at a time convenient for them. As a licensed Speech Language Pathologist, I work with children ages 3-17 who have speech or language disorders, in addition to specializing in accent reduction for adults. Another reason I started my own coaching business was to give myself a flexible schedule doing what I love, while obtaining a work life balance. I offer a complimentary screening for those considering my services. See my website: clearspeechcoaching.com or email me at clearspeechcoach1@gmail.com."
Abbie Miller - Stories Framed Photography
"Why did I start my business? It comes down to a mid-life revelation. First, I loved photographing people, showing them how beautiful they are, sharing their stories. Second, my husband (love him!) had been telling me for a long time that I could use my talent to earn more than just a $25 gift card for Barnes & Noble. Third, with my youngest in full-day Kindergarten, I reluctantly admitted that being a stay-at-home-mom with no kids at home was sort of... boring and pointless. My ideal job would combine genuine joy AND have a flexible schedule so I could "mom" when needed. For those reasons and more, Stories Framed Photography was born almost nine years ago."
Judi Murphy - Murphy Associates
"I've always wanted to own my own business. And for 25+ years, I've been able to do just that. As owner of Murphy Associates, I've helped others grow their businesses. Nothing brings me more happiness than watching a client grow and succeed. A connector of people, I use relationships and value-add strategies that lead to networking connections, creative long-term business relationships, referrals, friendships and reputation management while maintaining a high level of personal integrity. I'm a compassionate and effective advisor helping others achieve their goals. Murphy Associates does three things: Public Relations for shorter-term success; Marketing Audits and Marketing Strategy for longer-term success; and, Brand Journalism to launch my clients as "the expert" in their field. I also have a package program called PR-PDQ™. It's a jump-start program for solopreneurs that includes an audit and review of marketing materials & activities, and two press releases, written and distributed to local, hyper-local, regional, and national media. Includes social media posts and links in order to repurpose content."
Sara Nowacki - Platinum Travel and Autism Friendly Vacations
"Platinum Travel and Autism Friendly Vacations is committed to providing personalized service and individualized attention to each and every client.  Whether you are going on a world cruise, traveling to Europe, or taking a quick getaway, I work with you to customize your vacation to fit your needs and take away the stress of planning a vacation so you can relax and enjoy your hard earned vacation. I am a mother of two boys with special abilities and a Certified Autism Travel Professional. My goal is to help families with a child on the spectrum travel and enjoy the vacation you deserve. I am with you every step of the way – to answer your questions, arrange any special accommodations you may need and help you if issues do arise. I opened my own business to share my passion and joy of travel with other people."
Allison Quartuccio - Denali Realty Group
"Denali Realty Group is proudly entering their 10th year in business in 2021. (Another reason to hurry 2020 along…) We exist and have thrived on the relationships we have built and over 90% of our business can be traced back thru the Brookfield Chamber of Commerce. Owning a small business did not come naturally to me. I was honestly coaxed into it and after 6 months of tears and doubt, looked within and realized that the person who believed in me was right. I was born for the ups, the downs and making a difference in peoples lives. It is an experience like no other and 10 years later has shaped me into the woman I am today."
Lisa Raebel - Rebel Girl Marketing
"I founded Rebel Girl Marketing (RGM) to help small business owners who know they need marketing yet have no idea where to start. The small to mid-size business owner can't always afford agency work or to have someone on staff to help with their marketing. I love to help my clients refine their brand, define their ideal client, and then teach business owners how to market themselves. After college, I started my career in B2B sales, selling to mid-sized companies throughout southern Wisconsin. My true passion has always been marketing. So, as a marketing professional, I began utilizing my sales experience when developing marketing campaigns, knowing that if the target audience cannot relate to the marketing message, don't do it. That's the #RebelMindset. My WHY: "To teach and inspire others to get out of their own way so that they can discover their uniqueness and confidently share their talents with the world!"
Jennifer Rundell - Rundell ReDesign
"I have always had a passion for design! From the time I was little, I have been rearranging spaces in order to create a more harmonious FEEL. While my friends were playing dress-up with their Barbies, I was busy setting up the furniture in Barbie's home so she'd be ready to entertain when Ken and her other cool friends stopped by for a visit. Fast forward a few years. After countless hours helping friends, family members and co-workers redesign their homes, businesses and special events, it was time to open Rundell ReDesign. Owning my own business has not only given me the freedom to help my clients reimagine their best lives by redesigning where they work, live and play, it has also opened up a world of incredible collaborative opportunities with fabulous businesses including many members of the Greater Brookfield Chamber of Commerce."
Denise Schamens - Good Friend Inc.
"I believe that neurodiversity should be acknowledged and accepted! I have 3 children, two with neurological differences.  My insight into the needs of children with autism spectrum disorder gave rise to Good Friend, Inc., a 501(c)(3) public charity dedicated to creating autism awareness, teaching acceptance of differences, and fostering empathy for individuals with autism.  I have served as its co-founder, vice president, and creative director, providing autism awareness, acceptance, and empathy training to more than 53,000 K-10th grade students in Wisconsin since its inception in 2007. My passion lies in my creative pursuits within and outside the organization. As Creative Director, I am a 4-time short film director/editor, a theatrical set designer, a university guest lecturer, and a frequent conference presenter. In 2013, I became a First Generation Facilitator for Sibshops, and have since led the Good Friend team in providing 7 years of connected sibling workshops! My latest short film has been screened in 5 different film festivals throughout the country and Canada. Receiving 3 separate awards!  I love connecting people and being connected!"
Morgan Schnabl - Brunch - Brookfield
"I learned pretty quickly growing up that I wanted to be in a leadership role, much for before being "bossy" was considered leadership! I love building teams and identifying qualities in people that they themselves may not even be aware of. None of us can do this alone; my greatest joy has been leading through others and seeing what our teams can do. I believe it is an honor to be in any leadership role, and being able to lead my own companies has been such an amazing adventure. Owning my own business has been a challenge, but an awesome opportunity to defy typical business roles and journeys. I love being a business owner, challenging my team and myself, and continuing to evolve. I wouldn't want it any other way."
Nancy Lucchesi Schwab - Unleashed Mobile Apps
"My clients call me The App Mama. Founder of Unleashed Mobile Apps and number 1 bestselling author, I'm Nancy Schwab and my work centers around helping entrepreneurs bring their visions to life.  As a mobile app strategist, I help clients find the right developer, navigate the development process, and then teach them how to monetize their mobile app to success. The entrepreneur spirit is the heart and soul of our country. I founded Unleashed Mobile Apps because I knew there was an innovative way for small businesses to create relationships with their customers while competing with the big budget companies. In my down time, I enjoy spending time with my husband, cheering on the Green Bay Packers, traveling, particularly to places with a beach view."
Katie Soyka - Katie Soyka Photography
"I believe that when women invest in themselves through professional photography, they step into their power and raise their voice. Photography is a powerful way to build the know, love and trust factor, and I help businesses connect to their ideal clients through strong branding and stunning images. After graduating from UW-Madison with a degree in marketing, I worked for a Fortune 500 company for 6 years. My love of photography prompted me to create my own business. As a branding photographer, my positive energy and encouraging nature, combined with a passionate eye for the creative and beautiful, have found their perfect home. I help businesses get clear on the essence of their brand, then guide them through the branding photography process so they feel prepared, confident, and delight in the experience! When not behind a camera, my world revolves around three children, two dogs and loving husband."
Jennifer Stanford - Club Pilates - Brookfield
"After many years in Corporate America, my husband and I decided we wanted to own a business of our own where we could impact our community in a positive way.  Enter Club Pilates Brookfield.  We provide reformer-based Pilates to help people strengthen and move their bodies in a positive and uplifting environment.  We are now a critical piece of many people's physical and mental wellness routine.  Equipment Pilates is accessible by everybody of all ages (we have teens through seventies) and we love helping people get moving, manage their pain, and cross-train through Pilates."
Anna Mae Tiry - Anytime Fitness - Brookfield
"Currently, I am the owner/operator of Anytime Fitness in the Ruby Isle shopping center. Although I have been working with area Anytime Fitness locations since 2013, the Ruby Isle location is the first Anytime Fitness location that I have owned as we work to transition it from a basic 24-hour club to a coaching center WITH a 24-hour club. My lifelong passion of fitness started with my first job at the YMCA in my home town of Chippewa Falls, Wisconsin. This passion has only intensified as time passes. Through the years, I've been privileged to witness the positive impact that purposeful movement has had with clients. When they start taking care of the physical body it very quickly leads to better mental health. Better mental health then bleeds over to every area of life."
Carrie Truebenbach - Synchrony PT
"Synchrony Physical Therapy is a women-owned practice specializing in orthopedic and sports medicine physical therapy. Our mission is to provide expert care to help clients achieve their activity and performance goals. Our holistic approach to physical therapy allows us to work individually with each client, using targeted interventions to meet each client's needs. At Synchrony PT we offer services not only for injury management, but for preventative and wellness care also. Opening Synchrony PT was a big leap of faith for two physical therapists with no formal business training and decades vested in the traditional healthcare model. We were compelled to venture from the traditional system, adopting a non-insurance model of service delivery, to truly provide client-centered care. Let Synchrony PT become part of your healthcare team, as your personalized movement specialists!"
Aruna Tummala - Trinergy Center for Integrative Psychiatry
"I am Dr. Aruna Tummala, the only board certified, adult/geriatric, integrative, holistic psychiatrist in all of mid-west! I became disillusioned with lack of healing from psychiatric medicines. Knowing there was more to mental illness than just chemical imbalance, I dove into integrative/holistic medicine in 2013. Unfortunately, innovation was discouraged by my employers, even if it meant better health outcomes. So, I started my practice in 2016 with the vision of transforming mental health care. Here I am, in 2020, thankful for every patient that has trusted me, incredibly pleased and humbled by the life changing transformations I witness; from chronic illness to health/vitality. My patients heal their bodies and minds, losing their dependency on pharmaceutical meds (with awful side effects), and are healthy and joyful. Imagine the cost savings here! In turn, I feel blessed, joyful and so grateful that the Universe nudged me towards starting Trinergy Health!!!"
Jodi Vickary - Peace by Piece Grief Recovery
"I know that Pain and Peace will always be part of this precious gift of life that God gave us. I have had many blessings in my life. I have also experienced many traumatic losses in my life. My greatest life lessons have come through the pain of loss. I founded Peace By Piece Grief Recovery to share a gift that helped me so much. Recovery does not mean you will never hurt again, or you will ever forget the person or event that caused the pain, but you can learn to say goodbye to the "pain" and reclaim your life. It is a continuous process to learn how to apply the tools of getting complete, but once you do, it will transform the way you see and react to past, present, and future loss."
Karyn Youso - First Look Family Law
"There I was, 50 years old, divorced, and single parenting three teenage girls.  I had always worked full-time, but only as an employee for someone else.  As an employee, you don't really get to make decisions about how to run your practice, or to create the type of atmosphere you want.  And in family law, even small things can make a big difference to a client.  I wanted to open my own firm so I could offer a warm atmosphere of support, instead of the cold mahogany environment my previous employers favored.  I wanted to be a role model for my daughters, to show them they could not only use their brains at work, but they could also be the boss.   Practicing family law is part stress and part joy.  I'm proud to work for myself now, and to be able to offer a better experience to my clients."